The July retreat is now wrapped and what a fabulous retreat it was. We had a mix of writers, including a novelist, a playwright and an academic writer. Our mentor was the fabulous Laurie Johnson, who has worked extensively as an editor for Harlequin and all the writers found the mentoring sessions extremely useful.
This retreat saw the return of our gentle Dharma yoga session to encourage relaxation, along with our custom guided relaxation and meditation session. The weather was fabulous, so there was ample opportunity for our writers to sit and enjoy the quiet outdoors as a change from writing in their rooms.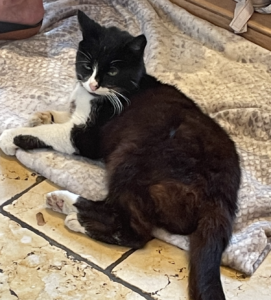 This retreat saw an extra visitor, in the form of a stray cat! He was thin and desperate for a meal. How could we not oblige? He stayed overnight with us before mooching on. On discussion with a local lady, it turned out he was likely the cat that was missing from a nearby house and we were a welcome refreshment stop on his way home.
The next retreat sees us move to the larger venue of Middleham House and we are very excited for this! Do book a place, there are just a few left, and join us, if you can.