At Writers' Retreat UK, we never stop moving forward. Our aim is simply to provide the best environment and resources for writers and aspiring writers to be productive. We cater for all levels of writer, from those who are well-established, traditionally published and who write for a living, to those who are just starting out on their writing journey.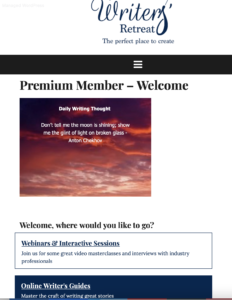 To support our retreats, we have a very successful subscription members-only platform that offers a range of resources, information, how-to guides and support session delivered via Zoom. With the subscription site going from strength-to-strength, we have been working in the background for two months, now, on redeveloping our members' platform so we can bring more benefits on a robust site that can cope with our growing number of subscribers.
At the moment, in addition to rebuilding our member site, we are working closely with a well-being professional to build a series of videos specifically aimed at the well-being and confidence of writers. This will be available on member site.
With COVID causing havoc with venues (at least two of our regular venues were unable to survive the pandemic and have, sadly, closed down), we have worked hard to secure the best of new venues for our retreats. Our venues have to meet certain criteria to be included in our approved list. They need to have rooms suitable for the installation of individual writing facilities, they need to have at least a majority of rooms with en-suites, additional quiet rooms must be available for communal, quiet writing and there should be access to outside space and local walking.
Our two new venues are:
Middleham House – full of victorian character and set in the centre of Middleham town in the Yorkshire Dales, but encapsulated in its own rambling grounds, our first retreat there was a HUGE success and fully sold out. Our second is scheduled for 11th October. We do have one remaining place due to a last-minute cancellation.
Glinger Estate – a simply stunning modern venue, in huge grounds boasts a hot tub and swimming pool (open during spring and summer months), will see our first 2022 retreat, with places already taken.
We return to our Scarborough venue of Kings House for our cosy seaside retreat in December, one of our venues that is a joy to return to.
With us moving on from COVID and back in full swing, 2022 promises to be a super year!
We hope to be welcoming you onto one of our retreats very soon!